Nursing offers many career opportunities and areas of specialization in which you can choose to work. Now, more than ever, is an excellent time to enter the field of nursing, and the demand for nurses in Missouri is high! In fact, the Missouri Hospital Association's 2022 Workforce Report finds staff nurse vacancies at 19.8%, which is at a historical high. With a diverse health care environment, including different areas such as pediatrics, chronic disease, surgical care, as well as an aging population with an increased need for those who require nursing care and services in Missouri, many nursing opportunities are readily available. Here's a closer look at Missouri's nursing career outlook and what it means for potential students.
According to the Bureau of Labor Statistics, registered nurse employment is predicted to grow 6% from 2021 to 2031. In Missouri, however, the nursing field is expected to grow by 64% from 2020 to 2030, adding over 4,000 jobs. Data produced by the Missouri Economic Research and Information Center (MERIC) shows an estimated employment growth rate of 92% projected for registered nurses in Missouri in 2023, with total annual openings in the state of 4,530 positions.
Learn more about Rockhurst University's Online ABSN Program
The 2021 Missouri Nursing Workforce Report states that most nurses licensed in Missouri are actively employed full-time in nursing or a position that requires a nursing license. The report also explains that very few RNs and APRNs report unemployment (3.7% of RNs and 2.2% of APRNs), further underscoring the limited supply of RNs and APRNs within the state to meet the current need for nurses in Missouri.

A Growing Field with Many Opportunities
The outlook for nursing graduates in Missouri is promising. With over 4,000 projected job openings in the next few years, there will be plenty of opportunities for those looking to enter the field. Salaries for nurses can vary depending on experience, education, and other factors. For instance, those with advanced degrees and additional certifications typically earn higher wages than those without. Additionally, nursing salaries in urban areas like St. Louis and Kansas City are usually higher than those in rural locations. And finally, those with more experience tend to earn more than entry-level nurses. With Missouri's nurse salary averaging $63,772 per year for new graduate registered nurses, nursing is a well-paying profession that offers its practitioners many opportunities for growth and advancement.
The field of nursing is a popular career choice because it offers a wide range of specialties and settings. Missouri is a great state for those looking to pursue a career in nursing. There are many career options and settings for nurses, including working in hospitals, clinics, and additional health care facilities. The demand for qualified nurses in Missouri will continue to increase in the upcoming years due to the vast array of health care specialties requiring nursing care, an aging and complex population, and advancements in medical technology leading to longer life expectancies. 
There is no shortage of nursing specialties to pursue. If you're interested in working with children, you could become a pediatric nurse. If you are passionate about helping those with chronic illnesses or if you have compassion for the elderly, there is an increasing demand for nurses in adult-gerontology, acute care, or hospice settings. There are also many opportunities for nurses who want to pursue advanced practice, leadership roles, or get involved in research. No matter your interest, you will likely find a nursing specialty that's right for you.
One of Missouri's most popular nursing career options is working in a hospital. Hospitals are always in need of qualified nurses to care for patients. Missouri offers several nationally ranked hospitals and academic medical centers to choose from. If you're interested in working in a hospital, you can consider a specific unit, such as the emergency room, labor and delivery, critical care areas, or pediatrics. Nurses working in these areas may also advance their careers within the hospital system.
Considering a Career in Nursing?
If you desire to help others and have a positive impact on the health and wellness of your community, now is an opportune time to consider a career in nursing. A nursing career can be fulfilling and offers the ability to help improve quality of life for others. Missouri has an excellent nursing career outlook. In Missouri, the nursing field is expected to grow by 64% – much faster than average – from 2020 to 2030, with plenty of job openings for new nurses in the coming years.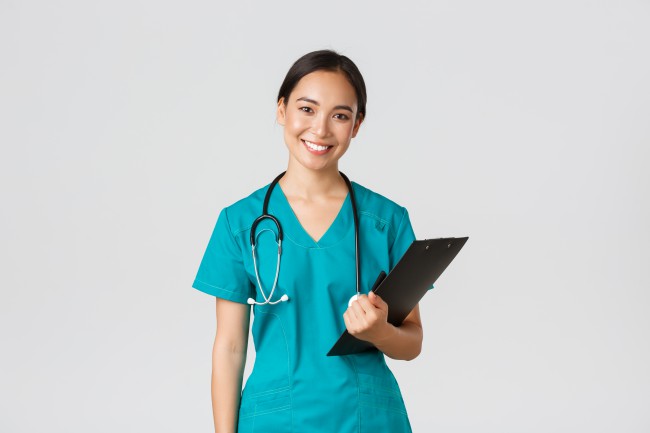 With the growing demand for nurses in Missouri, there is no better place to pursue your nursing education than Rockhurst University. Rockhurst's Accelerated BSN (ABSN) program allows you to obtain your Bachelor of Science in Nursing in 16 months if you already have a bachelor's degree in another field. It is compelling to note the many benefits of an ABSN, compared to a traditional BSN program. Rockhurst's full-time hybrid ABSN program offers 100% online coursework delivery by the highly esteemed Saint Luke's™ College of Nursing and Health Sciences. Blending accelerated online learning with clinical experience, the program includes a one-time, 10-day on-campus residency with hands-on instruction at Rockhurst's state-of-the-art simulation lab in Kansas City. The program also includes hours of clinical experience and its dedicated clinical coordinators ensure seamless clinical placement and rotations in your region. The ABSN program offers three annual intakes and is known for its unparalleled support from faculty and a dedicated student success advisor from enrollment to graduation. Rockhurst's ABSN graduates are highly sought after by employers throughout Missouri, with a 100% graduate employment rate for its BSN students.  
Learn more about Rockhurst University's Online ABSN Program
Missouri is a great state for those wanting to pursue a career in nursing. With medical technology advancements, complex health issues, and the aging population, the demand for qualified nurses in Missouri will continue to rise. Online and hybrid educational opportunities like the ABSN program offered at Rockhurst University can help aspiring nurses realize their goals to make a difference in their community. If you have a desire to provide compassionate and competent care to improve others' lives, while also empowering your life with a stable career, an attractive salary, and ample advancement opportunities, consider pursuing a degree in nursing today. Rockhurst University's Accelerated BSN program in Missouri is the perfect solution for students who want to become registered nurses in Missouri.
Learn more about Rockhurst's hybrid ABSN program.
 
References