As the need for skilled nurses continues to rise, many individuals are considering a career in the field. If you are wondering how to take the first step toward a nursing career, it's helpful to know that 77% of hospitals and healthcare settings say they strongly prefer to employ registered nurses who have earned Bachelor of Science in Nursing (BSN) degrees. 
Does that mean that individuals with a bachelor's degree in a different field need to enroll in another 120-hour bachelor's degree program? Fortunately, no. A unique accelerated degree program called an ABSN exists for just such professionals looking to enter the rewarding field of nursing.
Learn more about RUO's Online ABSN Program
What Is an ABSN? 
If you're a professional who hopes to transition into the medical field but hold a bachelor's degree in another field, you may think that you need to start your undergraduate education over in order to become a nurse. But an Accelerated Bachelor of Science in Nursing (ABSN) degree program can help you earn necessary nursing credentials in a much shorter time period than a four-year bachelor's degree. In fact, ABSN programs can prepare skilled nurses in just 16 months. 
The ABSN offers an accelerated pathway for aspiring nurses. Whether your bachelor's degree is in biology or business, education or engineering, an ABSN program provides much of the additional coursework needed in order to become employed as a skilled nurse. There are course prerequisites for an ABSN program in sciences and statistics as well.
ABSN curriculum is strategically designed to equip skilled nurses with the necessary theoretical and practical skills. Take a look at some of the curriculum that comprises an ABSN program.
Foundations of Professional Nursing
This course provides a foundation in the essential principles, concepts and skills needed by the beginning nursing student who is learning the nurse generalist role. Emphasis is placed on the nurse's role in providing safe patient care, effective communication, patient teaching, health promotion and utilization of the nursing process. Students have the opportunity to apply fundamental nursing principles in lab and clinical settings. 
Adult Health Nursing
This course provides a foundation in the essential principles, concepts and skills needed for caring for adult patients with alterations in health. The course integrates the concepts of aging, health promotion, and restoration of health. Students have the opportunity to apply concepts and skills in the lab and clinical settings. 
Maternal Child Health Nursing
This course prepares students to meet the nursing needs of childbearing and childrearing families. Students are given the opportunity to display their knowledge, skills and attitude in providing family-centered care in acute and community settings.
Population-Based Health Care
This course focuses on the nurse's role in the health of populations and the global society. Factors impacting the health of populations, including health promotion and risk reduction, are introduced. Areas of study include population/community assessment, epidemiology, environment, vulnerable populations, disaster management, global health and the impact of public policy on the health of populations. The practicum incorporates concepts and theories related to the health of populations in a variety of community settings.
Nursing Health Assessment Across the Lifespan
This course prepares students to perform comprehensive and focused physical health assessments for clients across the lifespan. This course includes assessments of health and illness parameters in clients using developmentally and culturally responsive approaches. Learning experiences occur in the classroom and clinical/laboratory.
Additional ABSN courses include:
Pathophysiology
Pharmacology
Introduction to Statistics
Professional Development
Evidence-Based Practice

ABSN vs. BSN
A few primary distinctions exist between an Accelerated Bachelor of Science in Nursing (ABSN) and a Bachelor of Science in Nursing (BSN).
ABSN 
Designed for individuals who already hold a bachelor's degree in another field. 
May take just 15 months 
60 credit hours 
For individuals with a bachelor's degree in another field, those general education credits are completed, so the ABSN degree program does not include them. 
BSN
Designed for students who only hold a high school diploma. 
Typically takes 4 years of full-time schooling
128 semester credit hours 
Includes approximately 60 hours of general education credits 
BSN vs ABSN

| | | |
| --- | --- | --- |
|   | BSN | ABSN |
| Program Length | Four years | 15 months |
| Semester Hours | ~128 hours | ~60 hours |
| Eligibility Requirement | High School Diploma | Bachelor's Degree |
While the ABSN and BSN have many differences, they also share similarities. 
Clinical Hours: For example, both programs will include clinical hours in which students put into practice what they are learning in their courses. These clinical hours will be completed in environments such as hospitals, private medical practices and nursing homes. 
NCLEX-RN exam: Both ABSN and BSN programs prepare students to take the National Council Licensure Examination RN Examination (NCLEX-RN exam) upon graduation. 
Nursing Community: Another similarity between the ABSN and BSN is the opportunity to build a network of nursing experts and peers. Whether a student enrolls in a traditional, on-campus BSN degree program having just graduated from high school or in an online ABSN after years of work in another field, pursuing a nursing degree will lead to connections with professors and students that can become a professional network.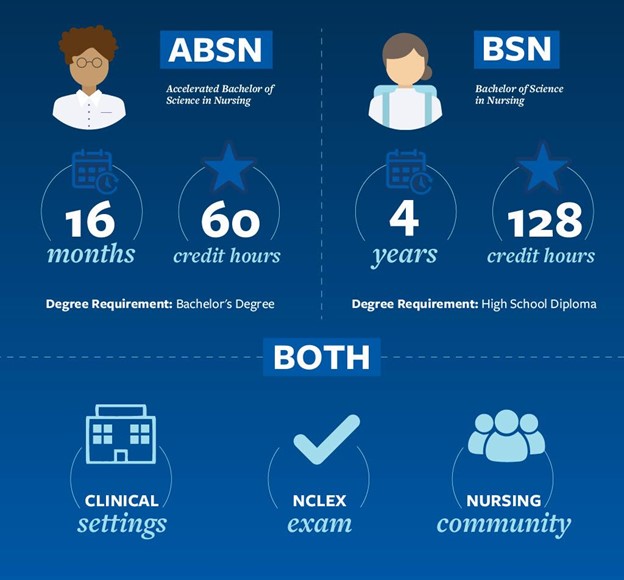 Accelerated Bachelor of Science in Nursing degree programs tend to be less expensive than a Bachelor of Science in Nursing and take much less time. However, the ABSN requirements for eligibility are higher than a BSN. Consider the cost, length and requirements for entering an ABSN degree program. 
How much does an accelerated BSN cost?
Nursing degree programs vary widely when it comes to cost. You can expect to spend anywhere from $17,000 to over $100,000 for your ABSN degree. 
How long is an accelerated BSN program?
ABSN programs tend to take anywhere between 11 and 18 months of full-time study.  
What are the ABSN requirements?
There are several requirements when it comes to qualifying for an ABSN program. Those requirements include coursework, a prior bachelor's degree and a grade point average (GPA) standard.
In addition to a bachelor's degree in any field, applicants for an ABSN program need to have completed (or be in the process of completing) the following courses. For those who do not have these courses in their transcript, many ABSN applicants can work with the enrollment advisor to take these classes before starting their ABSN program: 
Anatomy & Physiology I & II with lab (8 credits)
Microbiology with lab (4 credits)
General Chemistry or Organic Chemistry with lab (4 credits)
Nutrition (3 credits)
Statistics (3 credits)
Life Span/Developmental Psychology (3 credits)
The GPA requirement for the applicant's prior bachelor's degree will vary based on the school, but a cumulative 2.7 GPA or above is a useful reference point. Applicants may also need to submit a resumé detailing their prior work experience. 

What Is the Job Outlook for ABSN Degree Holders?
The job outlook for skilled nurses with a BSN degree is very positive. Because the United States is currently facing a nursing shortage, there are many opportunities and career paths for ABSN graduates to consider. 
Employment of RNs will increase by 9% between 2020 and 2030, which is higher than the national average of 8% for all occupations. 
(Site: The Bureau of Labor Statistics projects )
The aging Baby Boomer population requires more complex health care.
4.7 million nurses expected to retire by 2030, which is faster than the expected rate of new nurses joining the field 
A shortage of nursing faculty, which forces nursing schools to cap their admission numbers
According to the BLS, the median salary for registered nurses is $77,600. Consider some of the industries with the highest employment levels for registered nurses and the associated annual mean wages: 
General Medical and Surgical Hospitals: 31.32% of industry employment, $85,020
Offices of Physicians: 7.39% of industry employment, $73,860
Home Health Care Services: 11.47% of industry employment, $78,190
Outpatient Care Centers: 14.97% of industry employment, $93,070
Nursing Care Facilities (Skilled Nursing Facilities):    9.33%    of industry employment, $72,260
These are the top-paying industries for registered nurses, according to the BLS, along with their percent of industry employment and annual mean wages:
Nonscheduled Air Transportation: .21%, $112,630
Pharmaceutical and Medicine Manufacturing: .06%, $105,270
Merchant Wholesalers, Nondurable Goods (4242 and 4246 only): .20%, $101,240
Federal Executive Branch (OEWS Designation): 4.29%, $97,600
Office Administrative Services: 1.37%, $96,630
While all states across the US are regularly hiring nurses and in need of an ongoing trained, skilled nursing workforce, there are several states with exceptionally high levels of employment of registered nurses. Those states, with their correlating employment per thousand jobs and annual mean wages, are:
California: 19.63, $124,000
Texas: 17.80, $79,120
New York: 21.72, $93,320
Florida: 21.84, $72,000
Pennsylvania: 26.73, $76,000
When it comes to the highest paying states for registered nurses, the following five states and districts have the largest annual mean wages:
California: $124,000
Hawaii: $106,530
Oregon: $98,630
District of Columbia: $98,540
Alaska: $97,230
Learn more about RUO's Online ABSN Program
While many registered nurses work in traditional, familiar settings like hospitals or clinics, there are many more workplaces that employ nurses. These are some of the opportunities available to ABSN-degree holders:
Bedside registered nurse: likely the first role that comes to mind when hearing the word "nurse". They work in direct care and are often employed by hospitals or residential care facilities.
Triage nurse: working in doctor's offices, hospital emergency rooms, urgent care clinics and trauma centers (as well as other healthcare settings), triage nurses assess the care a patient requires by evaluating present illness and reviewing medical history.
Public health nurse: working in hospitals, clinics, nursing homes, or agencies, public health nurses work to address inequities that communities or populations face. They work with community health in mind and are interested in systemic health issues.
School nurse: these nursing professionals support students in school settings by providing the first line of emergency care and promoting health initiatives across the student body.
Nurse manager: these nurses work as supervisors in hospitals or clinical facility departments. They often serve as treatment decision resources, oversee staff members and coordinate schedules. Collaboration with fellow medical professionals like physicians is also a large part of their role. 
Nurse educator: these nurses often work within nursing schools as teachers as well as evaluators and creators of their nursing school's curriculum. While an ABSN is a great first step for aspiring nurse educators, they will likely need to earn a master's or doctoral degree as well. 
Clinical research nurse: these nurses provide direct patient care to individuals who are participating in clinical trials while also performing research. They may be employed by laboratories, pharmaceutical companies, research organizations, and clinical research units in hospitals. 
Informatics nurse: often employed by hospitals, pharmaceutical companies, or research organizations, informatics nurses work with health data to optimize electronic medical records in the interest of improving the patient experience. They may train fellow nurses on medical technology as well. 
Legal nurse consultant: typically working in a self-employed capacity, legal nurse consultants are hired by legal practices and insurance companies to aid attorneys who are working on healthcare-adjacent lawsuits. 
Take the First Step toward Entering a Booming Field by Earning an Accelerated Bachelor of Science in Nursing 
Are you ready for a career change? Do you have a bachelor's degree in a field other than nursing? Does the nursing shortage, the idea of a new profession, or a specific role in the field of nursing sound like the right fit for you? If so, the hybrid Accelerated Bachelor of Science in Nursing (ABSN) at Rockhurst University may be the right degree program for you. 
The online ABSN at Rockhurst University takes just 16 months and was created with bachelor's degree holders in other fields in mind. The program features 100% online coursework and a 10-day on-campus clinical immersion. The clinical immersion experience allows students to hone their skills in a simulation lab and enter real clinical settings so that hands-on training is quickly integrated into the degree program. 
During the 10-day immersion, students:
Receive hands-on instruction from Rockhurst faculty
Practice their skills 
Complete high- and low-fidelity simulation 
Demonstrate competencies in various critical elements
Clinical placement specialists ensure a smooth clinical placement experience for the 546.5 clinical hours students need. Depending on the student's area of interest, the clinical placement team will work to find an ideal setting for clinical hours. In any clinical hours setting, students will work under the direct supervision of a licensed RN preceptor and the indirect supervision of a Rockhurst clinical faculty supervisor.  
The Rockhurst ABSN curriculum introduces students to a multi-disciplinary approach that takes a wide view of the possibilities as a nurse. A Jesuit institution, Rockhurst University is accredited by the Commission on Collegiate Nursing Education (CCNE). Rockhurst University and Saint Luke's ™ College of Nursing and Health Sciences is accredited by the Higher Learning Commission (HLC). 
Students from Idaho, Indiana, Iowa, Kansas, Kentucky, Maine, Mississippi, Missouri, Nebraska, New Mexico and Vermont are welcome to apply to the ABSN program. Applicants must:
Hold a bachelor's degree in any field with a 2.7 cumulative GPA or higher 
Submit a resumé 
Complete prerequisites: 

Must complete 2 of 4 science prerequisites for your application to be reviewed
Science credits must be no older than 7 years; older credits trigger an ATI TEAS admission exam
Cannot repeat science courses more than once
Minimum of grade C in all prerequisite coursework
Learn more about the hybrid ABSN program at Rockhurst University.