If you are interested in becoming a nurse, you will likely be interested in information about the NCLEX. The NCLEX is the premier nursing licensure exam. Success on the NCLEX is a requirement for licensure as a registered nurse (RN) in all 50 states of the U.S. and Washington, DC. A key metric for determining a quality nursing education program is the NCLEX pass rate of graduates, particularly on their first time taking the test.
This blog will provide an overview of the NCLEX pass rate and explore some of the factors contributing to the scores. We will also discuss some tips for increasing your chances of passing the NCLEX on your first attempt. For individuals seeking a career change to nursing, know that passing the NCLEX examination will be an important milestone in your journey.
2023 NCLEX Pass Rate
The National Council of State Boards of Nursing (NCSBN) has published quarterly examination statistics including the volume of NCLEX test-takers and pass rate details. In 2023, the current mid-year overall NCLEX exam pass rate for RN candidates is approximately 68.23%. This percentage includes all test takers. The 2023 trends demonstrate the highest pass rates are among first-time U.S.-educated test takers with a baccalaureate degree in nursing.
NCLEX pass rates can vary from school to school, year to year. Because of this variation, it is important for prospective students to evaluate school pass rate statistics with the overall statistics from the particular year. When looking for a university to study nursing, evaluation of the pass rates for a potential nursing education program is an important piece of information for your decision.
Breakdown of the 2022 NCLEX Pass Rate
For first-time RN exam test-takers, the following NCLEX pass rates for 2022 were reported by the NCSBN:
31% of graduates of diploma nursing programs achieved a passing score
32% of graduates of baccalaureate nursing programs passed
91% of associate's degree programs passed
In 2022, approximately 63.39% of all testers passed the NCLEX exam. This is lower than the current mid-year pass rates for 2023. In 2022, there were 321,556 total test-takers. Of this total, 223,079 were attempting the NCLEX for the first time while 98,477 were repeat testers.
Categorical data is presented that further breaks down the 2022 NCLEX pass rate. This data provides insight into the scores for:
First-time test-takers (74.13% passed)
Repeat test-takers (39.07% passed)
S. educated (70.12% passed)
Internationally educated (36.23% passed)
Next, let's look into how an NCLEX pass score is generated.
How an NCLEX Pass Score is Generated
The NCLEX exam does not have a set number of questions where a passing score can be determined based on answering a specific number of those questions correctly. A valid and reliable measurement of nursing competence and knowledge is essential to ensure those who pass are prepared to practice nursing safely.
When taking the NCLEX exam, the computer program will adapt the difficulty level of upcoming questions based on whether a test taker answers the previous questions correctly or incorrectly. The program can more precisely determine a test taker's nursing competency with each question.
An NCLEX score is generated using one of three rules:
95% confidence interval – the program will stop the test when it is 95% certain that a candidate's ability is above or below the standard for a passing score
Maximum length – the program will assess whether the candidate is above or below the passing standard when the maximum number of questions is reached
Run-out-of-time – the program will assess whether the candidate is above or below the passing standard when the maximum time allotted for the exam has passed, provided the minimum number of questions have been answered
It is possible to become an RN with the successful completion of an Associate's Degree in Nursing (ADN) program or a Bachelor of Science in Nursing (BSN) program. There are also Accelerated Bachelor of Science in Nursing (ABSN) programs that have been designed specifically for individuals with a previous baccalaureate degree in a non-nursing field. ABSN programs are shorter in duration than a typical 4-year BSN program and result in the preferred baccalaureate-level nursing degree.
Next, let's look a bit further historically into the NCLEX pass rates for 2021 and 2022.
Factors Influencing NCLEX Pass Rates
In 2021, the overall NCLEX pass rate was reported at approximately 68.85%, making the 2022 overall pass rate of 63.39% a marked drop from the previous year. The pass rates in 2021 are similar to the mid-year rates of 2023, while 2022 results showed a lower rate of passing scores.
Several factors may have contributed to the decline in the 2022 NCLEX pass rate, such as disruptions from COVID-19 and high turnover in nursing staff. Student clinical experiences and nursing education rely on high-quality preceptorships and supervised, direct patient care experiences that were impacted during the pandemic.
Next, let's explore some strategies you can use to prepare for the NCLEX so you can be more likely to achieve a passing score and become an RN.
Tips for Passing the NCLEX Exam
In 2023, the next-generation NCLEX (NGN) was launched with some enhanced question types. The purpose of these enhancements to the NCLEX exam was to promote the assessment of critical thinking and the ability of candidates to apply nursing knowledge to real-life situations that are encountered in practice. NCLEX questions are designed to assess a candidate's ability to apply clinical judgment to nursing case scenarios.
One of the most important tips for passing the NCLEX is to take a comprehensive NCLEX review course before sitting for the examination. Another essential tip is to enroll in a quality nursing program. Many programs include NCLEX preparation within the curriculum and can help you practice with NGN NCLEX-style questions along the way.
Rockhurst University offers an online ABSN program with NGN NCLEX preparation built into the curriculum so that graduates are well-prepared to pass the exam on the first attempt.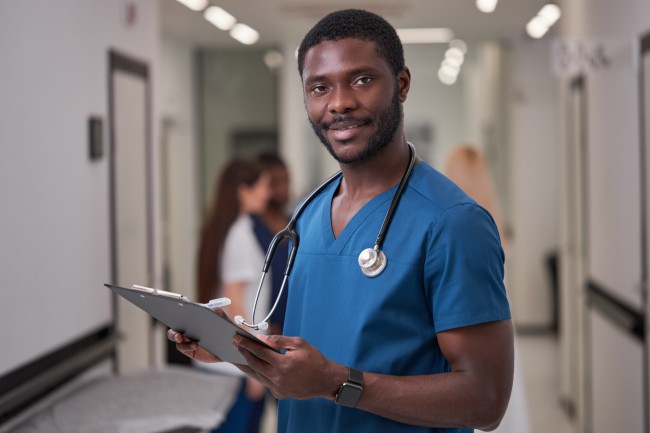 Transition to a Nursing Career with Rockhurst University
With a nursing education from Rockhurst University, you will participate in an NCLEX preparation course and receive dedicated one-on-one NGN NCLEX coaching from a professor. In 2023, Rockhurst University's BSN program posted a a 97% NCLEX pass rate. Rockhurst University's online ABSN program is accredited by the Commission on Collegiate Nursing Education (CCNE) and includes a preceptor matching service to help ensure quality clinical education in your area.
Clinical education is an essential part of NCLEX preparation. With preceptor-matching and a complementary clinical placement service, students at Rockhurst University participate in direct patient care learning experiences that are vetted to meet university and national guidelines. Clinical placement services help ensure students have a quality clinical placement within a reasonable driving distance so students can maintain focus on their studies.
Distinctive program features include:
Completion of a BSN degree in just 16 months
100% online coursework
One on-campus residency experience in a state-of-the-art simulation lab
Hands-on nursing skills instruction from experienced faculty
One-on-one NCLEX coaching after program completion
Delivered by Saint Luke's™ College of Nursing and Health Sciences, associated with the Saint Luke's™ Health System in Kansas City, Missouri
With a bachelor's degree in any field, you can enroll in the online ABSN program with Rockhurst University's Saint Luke's College of Nursing and Health Sciences and transition your career to nursing. For more information and to get started, visit the program page today.