This article has been updated on February 15, 2023.
Did you know that 72% of hospitals and healthcare settings say that they strongly prefer the registered nurses they hire to have Bachelor of Science in Nursing (BSN) degrees? In fact, 41% of hospitals and healthcare settings go beyond preference and require that registered nurse (RN) applicants have a BSN. The marketplace is full of opportunities for those who want to step into BSN careers that range from patient care to roles in health informatics to institutional leadership positions. 
The job outlook for BSN prepared nurses is not the only benefit of earning a BSN degree. BSN prepared nurses also:
Earn an average salary of $91,000 compared to $74,000 for those with an Associate Degree Nursing (ADN), according to Payscale
Are trained in research, leadership, and community health 
Have greater potential for career advancement, as a BSN degree is required for many leadership, specialty, and management roles
In addition to personal benefits and opportunities for advancement, BSN prepared nurses are also linked to improved patient outcomes such as lower mortality and failure-to-rescue rates, lower readmission rates, and shorter lengths of stay. And despite the fact that BSN prepared nurses command higher salaries than their ADN counterparts, BSN nurses ultimately save hospitals and healthcare settings money through their efficient, effective nursing.  
Careers for nurses with BSN degrees can be found both inside and outside of direct patient care settings. For the aspiring nurse who is interested in career advancement opportunities with or without direct patient care, a BSN is the place to start. Consider just ten of the many BSN career options available today. 
10 Careers for BSN Prepared Nurses
Learn more about RUO's Online ABSN Program
A bedside registered nurse is likely the first role people envision when they hear the word "nurse." Bedside registered nurses are direct patient care nurses who generally work in hospitals and residential care facilities. They conduct physical assessments, provide nursing interventions, coordinate care with the interdisciplinary team and support and advocate for the patient and their family.
Bedside RNs often collaborate with interdisciplinary teams of physicians, fellow nurses, and other healthcare professionals to ensure optimal care for their patients. As the primary providers of patient care in hospitals, bedside RNs are often responsible for educating patients about conditions, treatments, and at-home care. Individuals who enjoy hands-on care, and who are prepared for the challenges of caring for people with major illnesses, may find a role as a bedside nurse especially fulfilling.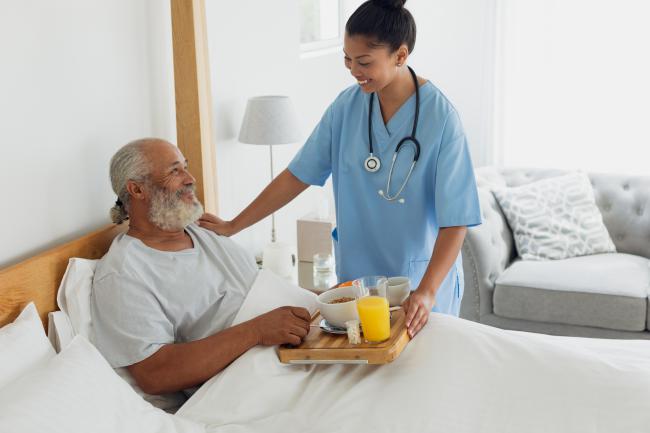 Triage nurses assess patients to determine the type of care they need. They may work in a physician's office, hospital emergency department, urgent care clinics, trauma centers, or another healthcare setting. Triage nurses make a critical difference in patient satisfaction as they work to reduce wait times, properly assess the level of care each patient needs, and pursue the best outcomes possible for the patients in their department. 
Triage nurses evaluate the history of the present illness a patient is facing in order to assess for acute issues that require immediate attention. Triage may occur in person through a focused assessment and taking vital signs, or may be conducted by phone or televisit.  Upon completing their assessment, triage nurses  arrange for the appropriate healthcare professionals to treat the patient. Individuals who enjoy directly interacting with patients, a fast-paced work schedule, and evaluating patient needs may be well-suited for a role as a triage nurse.
Public health nurses focus on the health needs of whole communities through efforts like disease prevention and education as well as direct treatment. They may work in hospitals, clinics, or nursing homes. Public health nurses aim to address the specific deficits and inequities faced by the population and subpopulations they serve. Their goal is to promote and protect community health with an approach that incorporates nursing, social, and public health.
Professionals who are interested in systemic health issues and an emphasis on disease prevention may be especially interested in a career as a public health nurse. In addition to seeing patients, public health nurses will also study community health trends and often advocate for public policies to improve community health outcomes. 
School nurses lead efforts to support the physical, mental, emotional, and social health of the students at their school. In addition to providing preventative screenings, first aid and medication administration to the general student body, school nurses also serve students with chronic health issues or disabilities through ongoing support. School nurses may collaborate with fellow school staff, such as the school counselor, to promote optimal, holistic health for all students. They are the first line of emergency care for any students who experience injuries, allergic reactions, or other emergent medical conditions. School nurses also train faculty and staff on emergency care.
Individuals who enjoy working with children, promoting health education programs, and working with others to promote health within a specific population may especially enjoy a role as a school nurse. School nurses also cite the stable workday and autonomy as assets of the job. Additionally, many note that the role is very community-oriented, and that nurses often work with families to gain access to health services or information, which brings even more meaningful work to the school nurse's role. 
The use of telehealth has skyrocketed over the past few years. After the initial spike in telemedicine visits during early COVID-19 lockdowns, digital health appointments remained much more popular than before the pandemic, stabilizing at 38 times higher than before March 2020. As the public continues to grow in trust of digital healthcare, and as younger generations who grew up with access to technology continue to age and have increased healthcare needs, the demand for telemedicine nurses is only expected to rise.
Depending on state standards, telemedicine nurses may use video, phone, email, and messaging to care for patients. They often speak with patients who are facing non-emergency health problems to perform triage assessments and counsel patients on next steps. 
As one of the most flexible BSN career options, telemedicine nursing is praised for providing the ability to work from home and time saved on commuting.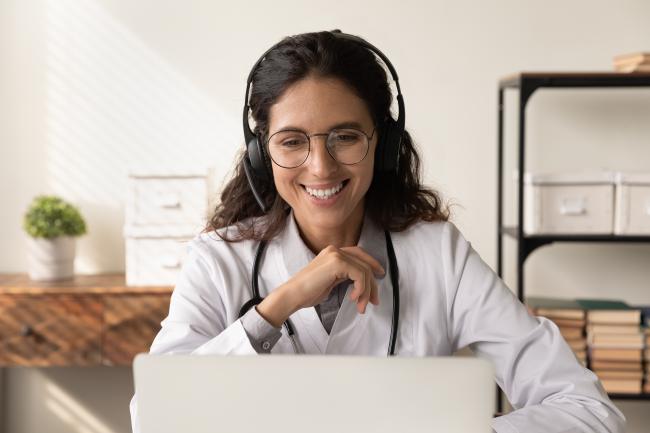 Nurse managers supervise hospital or clinical facility departments. Their responsibilities tend to include being a resource on treatment decisions for the nurses they oversee, directing nursing staff and schedules, and collaborating with physicians and fellow medical professionals within and across the departments. 
Aspiring nurses with strong leadership skills may want to work toward a nurse management role. The role calls for a blend of administrative, logistical, and relational skills that work together to complete tasks like writing and implementing policies, assuring quality of care, and recruiting and training staff. 
Learn more about RUO's Online ABSN Program
Most nurse management roles require at least the completion of a BSN degree. Oftentimes, BSN graduates may be hired as assistant managers, while an MSN tends to be required or preferred for full management roles. In each of these instances, healthcare institutions will look for nurse manager candidates who have experience as registered nurses and are deeply familiar with healthcare settings, often hiring BSN-educated nurses as assistant managers.
BSN prepared nurses who enjoy mentoring, teaching, and communicating may enjoy a career path in nurse education. Nurse educators may work within nursing schools where they create, teach, and evaluate nursing curricula within nursing schools. Healthcare organizations such as hospitals also hire nurse educators to provide training to staff within their facility. When 940 nurse educators were surveyed about their jobs, they cited the desire to teach in a stimulating, flexible environment and the desire to influence the nursing profession as reasons for choosing their career paths.
Nurses who are interested in teaching as professors or faculty members within university settings will need to pursue further education, typically a master's or doctoral degree in nursing (MSN, DNP, or PhD). By starting with a BSN and some nursing experience, nurses can prepare themselves to enroll in an MSN program and become eligible for academic nurse educator roles.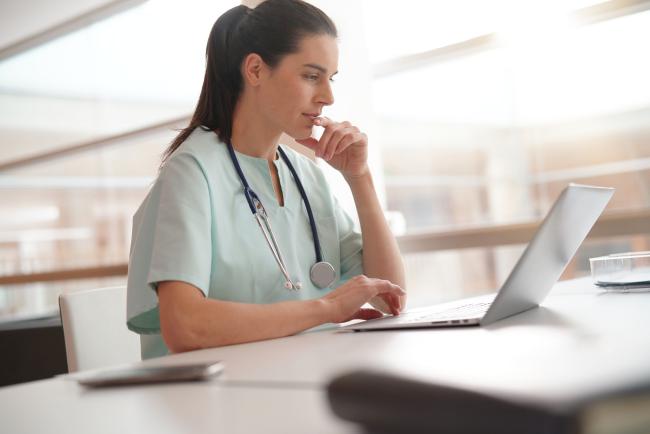 Clinical research nurses provide direct patient care to participants in clinical trials. They are typically employed in research settings such as laboratories, pharmaceutical companies, or medical research organizations. Many are hired to work within clinical research units in hospitals as well. 
Through their patient care, these professionals work on critical tasks like implementing research protocols, developing vaccines, and improving disease prevention. Research nursing is an ideal career for nurses with BSN degrees who enjoy the academic and scientific aspects of medicine yet also want to maintain a strong connection to patients. 
Nurses who are drawn to solving problems may find a lot of satisfaction in a research role. Those who enjoy studying diseases and potential treatments, educating and guiding patients throughout processes, and innovating may be especially drawn to roles as clinical research nurses. 
Aspiring nurses who are interested in the intersection of information technology and healthcare may find exactly what they are looking for in an informatics nursing role. Informatics nurses bring together health data, clinical experience, and technology to optimize electronic medical records to the benefit of patients. Informatics nurses may be responsible for training fellow nurses on how to use medical technology, implementing hardware and software, and developing reports based on data. 
Informatics nurses often work in hospitals, pharmaceutical companies, and research organizations. They may also be employed by healthcare consulting firms or government agencies like the US Veterans Health Administration. 
Aspiring nursing professionals who want to see health care systems leverage the technology available to them will want to consider an informatics nursing role. A BSN is a great place to start, especially for individuals with a background in information technology or those who are willing to pursue further education at the master's or doctoral level. 
Legal nurse consultants are often hired by consultants, private legal practices, law firms, and insurance companies to assist attorneys on healthcare related legal cases. They may analyze medical records, write summaries, and educate attorneys on various aspects of nursing, health care, or medical conditions. Legal nurse consultants may also interview patients involved in lawsuits, serve as expert witnesses, and participate in jury selection. 
Healthcare organizations also hire legal nurse consultants to work within their risk management departments. In such roles, legal nurse consultants may design risk management strategies, assess and manage failure in patient care, and advise hospital leadership on issues of risk. 
Legal nurse consultants note that their job is never dull and one of the most independent BSN careers.

Prepare for Your Ideal Career at Rockhurst University
Whether you have your sights set on a nursing career in patient care at a hospital or you dream of testifying as an expert nurse witness in a legal trial, the hybrid Accelerated Bachelor of Science in Nursing (ABSN) at Rockhurst University can equip you for the next step in your career. Through the online ABSN, you can become a nurse in just 16 months, as opposed to the four year commitment of a non-accelerated BSN program.  
Designed for individuals who have already earned a bachelor's degree in any other field, the hybrid ABSN program features 100% online coursework with a 10-day on-campus clinical immersion and 546.5 clinical hours to prepare students to enter the nursing workforce as BSN-prepared nurses. The 10-day immersion includes clinical instruction and direct patient care experiences allowing students to practice their skills within a state-of-the-art simulation lab and enter real clinical settings to begin their hands-on training. 
Learn more about RUO's Online ABSN Program
Additionally, our clinical placement team will work closely with you to ensure a frictionless clinical placement experience that works for your needs and meets all of the university and national guidelines. Clinical placement experiences will help students develop their skills in areas such as medical surgical nursing, pediatrics, community health and women's health.
As a Jesuit institution focused on an interdisciplinary model of learning, Rockhurst is uniquely positioned to prepare BSN students for these diverse nursing paths. Rockhurst's ABSN curriculum will expose students to multi-disciplinary concepts that directly apply to each of the unique career options.
Rockhurst's baccalaureate nursing degree program is accredited by the Commission on Collegiate Nursing Education (CCNE). Rockhurst University and Saint Luke's College of Nursing and Health Sciences are accredited by the Higher Learning Commission (HLC). Graduates of the BSN program have enjoyed a 100% employment rate.
If you are eager to pursue a career that is full of possibilities, we invite you to learn more about Rockhurst University's online Accelerated Bachelor of Science in Nursing (ABSN).