The beginning of nursing school clinicals is an exciting time in which nursing students have the opportunity to provide hands-on patient care in a supervised nursing role. For many students, clinicals are also one of the first experiences of practicing direct conversation with patients and their families. If you are a nursing student about to enter your clinical experience, this blog is for you.
We will discuss some helpful tips on excelling during your clinicals and explain how you can best prepare for this time of personal and professional growth. Nursing school clinicals will stretch you beyond your comfort zone as you transition from didactic coursework into a direct-care student nursing role.
Nursing school clinicals will vary from program to program because there are different clinical site arrangements, course outcomes, and potential preceptors. You can become a registered nurse (RN) with a traditional, four-year Bachelor of Science in Nursing (BSN) program or an accelerated BSN (ABSN) program that can vary in length from one to two years. Both types of programs will engage you in clinical experiences.
FAQs About Nursing School Clinicals
Let's explore the answers to some of the most frequently asked questions about nursing school clinicals to help prepare you for what is ahead.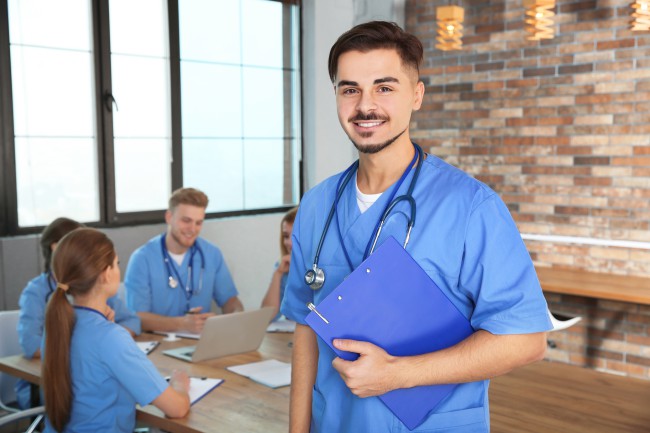 Frequently Asked Questions About Nursing School Clinicals
How Many Clinical Hours Are Required in Nursing School?
One of the most commonly asked questions that students have is how many clinical hours are required for nursing school. While each program does have a set number of credit hours that are required, the exact number of clinical hours may vary. A requirement for the number of included clinical hours is set forth by the Commission on Collegiate Nursing Education (CCNE) for program accreditation.
Each course may have a specific number of clinical hours assigned, and you may have multiple clinical rotations. These may be completed with different preceptors, on different hospital units or practice settings, or in distinct nursing specialty areas.
How long nursing school clinicals last is based on the lengths of shifts and the schedule of your particular preceptor. What is common to all nursing school programs is that the required number of clinical hours must be completed to receive a passing grade for the clinical course.
How Are Clinicals Graded?
Most clinical experiences are graded based on three items:
Successful completion of required clinical hours and any simulation experiences
Grading of clinical assignments such as clinical notes, discussions, and case studies
Evaluation of clinical competency completed by your course faculty and preceptor
Evaluations of your clinical performance occur at various intervals throughout your clinical experiences. You will grow in nursing skill competencies as you progress throughout your program.
Your course faculty and preceptor will provide supervision to help ensure you have opportunities to work with patients, ask questions, learn from mistakes, and gain comfort with routine nursing care. If remediation is necessary to help you succeed, your preceptor and faculty will collaborate with you on an action plan to improve your evaluation scores with time and focus. 
What Areas of Nursing Will I Experience?
One of the benefits of an accelerated nursing program is the potential to accelerate your path to becoming a nurse. When obtaining an Accelerated Bachelor of Science in Nursing (ABSN) degree, you will complete courses in a fast-paced and academically rigorous learning environment. When you complete immersive clinical rotations, you will gain momentum as you build on and hone your skills each day.
As a nursing student, you will encounter several areas of nursing care. These must include:
Community health
Mental health 
Pediatrics 
Medical surgical acute care – typically adult and gerontology patient populations
Perinatal (Labor and delivery)
Some rotations will likely hold your interest more than others. You will learn more about yourself and your potential future practice areas as you experience various areas of nursing. Take note of what you enjoy the most and where you feel most fulfilled. Be sure to discuss your experiences with your faculty, who can help guide you as you consider future career paths.
Learn more about Rockhurst University's Online ABSN Program
Will I Care for My Own Patients?
As a nursing student, you will first learn how to complete nursing skills in a laboratory environment with check-offs to evaluate your performance. Depending on the program, you may have opportunities to practice patient scenarios using simulation before you enter the in-person clinical environment.
Once you begin your clinical rotations, you will have the opportunity to care for your own patients. However, as a nursing student, you will gain this experience under the supervision of an experienced nursing professional – a preceptor. Your preceptor may give you the autonomy to talk and care for patients independently during a designated nursing shift, but your preceptor will always be there for support and guidance.
Nursing students are challenged to think critically as patient situations arise and warrant intervention. You will practice physical assessment of patients, communication skills, formulation of nursing diagnoses, medication administration, and the development and execution of plans of care. You will have the opportunity to evaluate care plans to achieve set goals that incorporate the preferences of the patient and their family. Your strengths will begin to emerge, and while receiving mentorship to become a professional nurse, you will also gain valuable professional connections in the nursing community, including potential employers.
What Should I Wear to Nursing School Clinicals?
When you learn to become a nurse, you must dress the part. Professional attire is essential. Many schools have scrub tops and pants for nursing students to purchase. Your uniform should be freshly laundered and free of stains and tears. Other appropriate attire may be a short lab coat with slacks and comfortable shoes. Be sure to follow the dress code provided in your clinical course materials.
Personal hygiene is also critical for nursing students. Those with longer hair can choose to wear a style that keeps their hair neat and out of their face. Avoid strong perfumes and maintain good hand cleanliness. It is necessary to keep your fingernails trimmed and tidy because nails can harbor dirt and bacteria. Compliance with university and clinical site policies for hygiene is expected. 
How Do I Find Clinical Rotation Sites and Preceptors?
Another question commonly asked by nursing students is whether you will be required to find your clinical rotations. Preceptors and clinical sites must be properly vetted to ensure you have a clinical experience that prepares you to reach the desired outcomes of your nursing program. A quality nursing program will provide clinical placement services so that students can keep the focus on their studies and guarantee rotations that meet the requirements of the curriculum. 

Rockhurst University Provides Quality Clinical Placement
Rockhurst University offers complementary clinical placement services where you will be matched with a clinical placement coordinator who can help find you a preceptor and clinical site within your region. You will be notified of your placement before each clinical rotation in your program, and receive step-by-step support until you complete all your clinical requirements. 
Furthermore, with Rockhurst University's clinical placement services, you will tap into a network of hospitals and clinical sites across the nation and may have the opportunity to connect with employers that become opportunities for potential employment. The ABSN program is delivered by Saint Luke's™ College of Nursing and Health Science and partners with the Saint Luke's Health System in Kansas City, Missouri. 

Visit the program page to learn more about the clinicals in Rockhurst University's Online Accelerated Bachelor of Science in Nursing (ABSN) program.