Hospitals throughout Missouri consistently need new nurses to fill vacancies. The Missouri Hospital Association (MHA) found that 19.8% of nursing positions (8,334) were vacant in 2022. This vacancy rate more than doubled the 7.8% rate in 2018 with an aging workforce and COVID-19 contributing to turnover.
Compassionate professionals of all educational backgrounds who wish to make a difference in this space can counter this trend by becoming nurses in Missouri. The clinical skills and knowledge required for success in this profession are built over years of hands-on experience. The first step in becoming a nurse in Missouri is completing a nursing degree program.
Earning a Nursing Degree
Registered nurses must hold a diploma, associate degree, or bachelor's degree before receiving their licenses in Missouri. The Bachelor of Science in Nursing (BSN) has evolved into the preferred degree at the time of initial licensing across the United States. 
The National Nursing Workforce Study found that 42% of all registered nurses held BSNs at the time of licensing in 2020. This figure was a significant increase over the 35.5% of respondents who reported BSNs when first licensed in 2013. There was a 7.5% decrease in nurses with diplomas and associate degrees at licensing during the same period.
Earning a BSN before becoming a nurse in Missouri anticipates the skills, knowledge and critical thinking necessary for a successful nursing career. BSN programs build advanced knowledge in the sciences and healthcare prior to hands-on clinical experiences. Registered nurses with BSNs are also positioned for Master of Science in Nursing (MSN) programs necessary for nurse practitioner roles.
Accelerated and Online Degree Options
The typical BSN program requires four years of study, including general education requirements. Those who possess undergraduate degrees in other fields but aspire to switch to a nursing career can reduce time spent in school with an accelerated BSN (ABSN). An ABSN program acknowledges the value of previous coursework while focusing on nursing knowledge.
The ABSN route is often combined with hybrid or entirely virtual coursework for maximum convenience and accessibility. Career-changing professionals can complete their coursework from home and clinical requirements within their own communities. An online ABSN from a Missouri-approved program prepares graduates for the state's nursing license requirements.
Learn About Rockhurst's Accredited Online ABSN
Requirements for State Licensure
Nursing school graduates in Missouri can serve as graduate nurses up to 90 days after completing their degrees. This period allows them to work while they submit applications for registered nurse licenses and pass the National Council Licensure Examination (NCLEX).
License Application
First-time licensees use Missouri's RN Examination application at the start of their nursing careers. This form asks applicants to request official transcripts from their Missouri nursing schools after graduation. Additional requirements for licensure include:
A notarized and signed application form
Evidence of lawful presence or citizenship such as a birth certificate or unexpired visa
Criminal background checks through an approved vendor
NCLEX
Completed applications must be submitted before an NCLEX test date can be scheduled. Students typically register for the NCLEX during the last month of enrollment. Successful completion of the NCLEX is required by state nursing boards as a baseline measurement of competency and skill. The requirements discussed below are applicable as of April 2023.
This exam uses a computerized adaptive testing (CAT) system instead of a fixed-length format to truly evaluate a nurse's knowledge. Test takers complete at least 85 questions with a maximum of 150 questions completed during a period of up to five hours. There are at least 52 questions in eight areas, including:
Health Promotion and Maintenance
Management of Care
Pharmacological and Parenteral Therapies
Physiological Adaptation
Safety and Infection Control
NCLEX-RN tests nursing knowledge with fill-in-the-blank questions, case studies, and sample patient charts. The CAT continues each test until it achieves more than a 95% certainty that the taker meets or falls below the passing standard set by the National Council of State Boards of Nursing (NCSBN). Test takers are allowed to complete all of the questions if this 95% certainty is not achieved.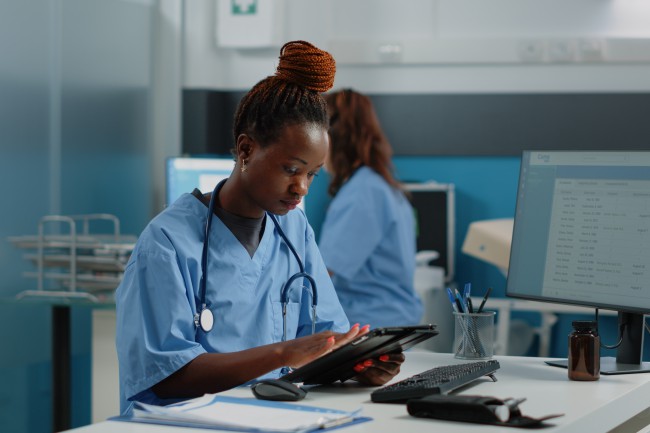 Benefits of a Nursing Career in Missouri
The strong demand for nurses makes it an attractive career option for professionals throughout Missouri. Prospective nursing students should think about the long-term returns on their investment in time, energy, and money. The following benefits of completing the previous steps make Missouri a welcoming place for nurses.
Job Outlook
An important consideration for registered nurses in the job market is the long-term demand for their skills. States with high demand for nursing professionals may lead to higher salaries as well as opportunities for career growth. Missouri's above-average demand for registered nurses makes it a great choice for new graduates.
The U.S. Department of Labor estimates a 6.5% growth in registered nursing roles from 2020 to 2030. This growth translates into an estimated 4,800 new positions throughout the state. Missouri is expected to be slightly ahead of the 6% national growth in nursing roles over the same period.
Student Loan Repayment
Student loans create financial burdens early in the careers of registered nurses and nurse practitioners. Missouri's Nurse Loan Repayment Program reduces this burden while filling vacant positions in underserved communities. Registered Nurses and Advanced Practice Nurses need the following to qualify for the program:
A nursing degree from a university approved by the Missouri Board of Nursing
A current Registered Nurse license in Missouri
Full-time employment in a Health Professional Shortage Area in Missouri
Loan repayment assistance rewards nursing professionals willing to serve communities with limited access to care. The Missouri Department of Health & Senior Services issues a maximum of $10,000 per year to qualifying registered nurses. This amount increases to $20,000 per year for Advanced Practice Nurses.
Cost of Living
Another consideration in choosing Missouri as your professional home is the cost of living. The Missouri Economic Research and Information Center (MERIC) found that Missouri had the ninth lowest cost of living in the United States. Missouri's category scores based on a nationwide average of 100 included:
Housing (80.4)
Health (91.2)
Utilities (94.2)
Grocery (96.8)
Transportation (97.8)
Three cities – Joplin, Springfield, and St. Louis – are more affordable than the Missouri overall score of 90.1. Affordable communities lower the financial barriers to becoming a nurse in Missouri. Rockhurst University's Online ABSN helps graduates access these benefits while caring for patients of all ages.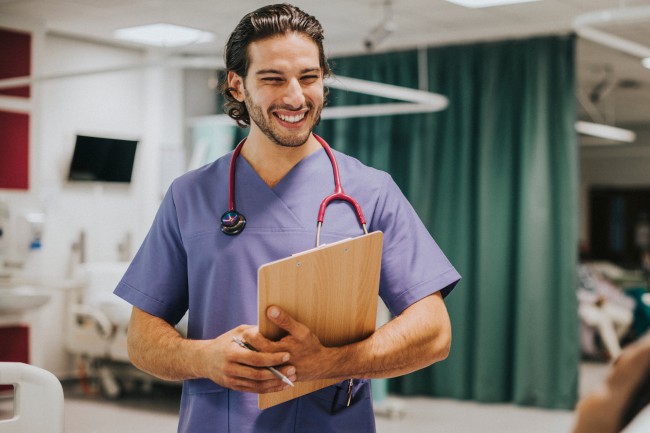 Building a Nursing Career at Rockhurst University
The Online ABSN helps students with bachelor's degrees in other fields switch to nursing careers. This accelerated program can be completed in as little as 16 months of full-time online study. Students prepare for future nursing roles by learning about topics such as:
Complex Care of Adults
Foundation of Professional Nursing
Maternal Child Health Nursing
Every student completes a 10-day residency at the university's Kansas City campus in their first semester. Faculty members walk students through realistic clinical experiences at the Saint Luke's™ College of Nursing and Health Sciences simulation lab. The residency also builds connections among students and faculty within the Missouri nursing community.
BSN graduates at Rockhurst University reported a 100% employment rate as of 2022. This rate is the culmination of a rigorous curriculum and effective clinical training. In the hybrid ABSN program, Rockhurst University's placement coordinators make clinical experience possible by identifying locations and preceptors close to each student's community.
A strong job placement record and free placement services contribute to the university's strong regional reputation. U.S. News & World Report ranked the university No. 26 in Regional Universities Midwest and No. 42 in Best Value Schools. Rockhurst University's nursing programs are associated with Saint Luke's™ Health System, which employs more than 12,000 medical professionals in the Kansas City metro area.
If you are ready to make a difference in your community in a profession that fills the health care gap and provides career advancement, start your journey to becoming a nurse in Missouri with Rockhurst University's hybrid ABSN program.