Nursing is a rewarding profession with high demand in the United States. If you are interested in how to become a nurse in Idaho, this blog is for you. We will explore the educational and licensure requirements along with efficient programmatic options that can help transition you from your current career into your future as a registered nurse (RN).
Steps to Become a Nurse in Idaho
The first step to becoming a nurse in Idaho is to complete an approved educational course of study in nursing. There are several types of quality nursing programs available today. Traditional Bachelor of Science in Nursing (BSN) programs may take up to four years to complete with in-person classes and required clinical hours. Accelerated BSN (ABSN) programs are available for those who already have a non-nursing bachelor's degree. ABSN programs are delivered with online coursework and more efficient timelines to achieve your degree.
Benefits of online/hybrid ABSN programs include:
The curriculum prepares non-nursing bachelor's degree holders for a future in nursing
Graduate in less time than a traditional 4-year BSN program, usually 1.5-2 years
Required clinical hours
More flexibility to study on your schedule with online coursework
Clinical experience in your area, with possible placement support, depending on the school
ABSN programs are sometimes outside Idaho and expand options for education that best fits your needs in curriculum, tuition and program length
Learn more about RU's Online ABSN Program
Another way to complete an efficient nursing program is to enroll in an Associate Degree in Nursing (ADN) program. An ADN program is typically completed in 18-24 months and is for those without a prior bachelor's degree. While ADN programs also allow graduates to become RNs, it is not a bachelor's degree. ABSN programs enable graduates to obtain the employer-preferred BSN degree that may open greater employment opportunities for nursing job candidates.
Once you have completed your nursing education, the next step is to visit the Idaho Board of Nursing website and follow the process for nursing licensure application by examination. You are required to have a valid Idaho nursing license to practice nursing in Idaho.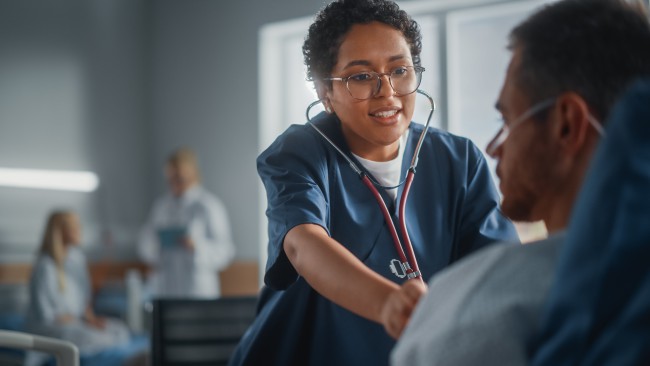 Idaho Requirements for State Licensure
The Idaho Board of Nursing has a licensure application portal where applicants are required to create an account to apply for nursing licensure. The portal is also used to maintain Idaho nursing licensure over each subsequent licensure renewal period.
As a new nursing graduate whose primary residence is in Idaho, you will apply for Idaho RN licensure by examination, meaning that you will be required to sit for and pass the nursing practice (NCLEX) examination as a part of the nursing licensure process. You must register for the NCLEX examination with Pearson Vue after submitting your nursing licensure application to the Idaho Board of Nursing.
A completed nursing licensure application to the Idaho Board of Nursing includes the following:
Finalization of the electronic nursing licensure application form through the portal
Payment of the required nursing licensure application fee
Submission of official transcripts from your nursing education program
Completion of a criminal background check with fingerprinting
An authorization to test (ATT) with Pearson Vue is made available once the Board of Nursing has received all of your application materials, provided there are not any concerns with the contents of your submission. If you do not pass the NCLEX examination, you can retake the exam after 45 days have passed from your initial attempt. There is no limit to the number of times an applicant can retake the NCLEX.
New Graduate Temporary Nursing Licensure
The Idaho Board of Nursing offers temporary nursing licensure to graduated applicants before the notification of examination results and completion of the criminal background check. Graduate provisional licensure is available to applicants with verified completion of an approved nursing program that is recognized by the Idaho Board of Nursing or other professional licensing boards in alignment with the Board of Nursing rules and regulations.
A temporary l license requires the graduate nurse to practice nursing under the direct supervision of a licensed RN and does not permit the graduate nurse to serve as a charge nurse. Temporary nursing licensure periods are valid for 90 days and are only available for continued renewal if the applicant successfully passes the NCLEX but is still awaiting official RN license issuance.
Idaho Nursing Job Outlook
According to the U.S. Bureau of Labor Statistics, in May 2022, Idaho employed approximately 13,680 registered nurses with an annual average Idaho nurse salary of $78,618 or $37.79 per hour. In addition, there is a favorable job outlook for the profession. From 2021 to 2031, employment of RNs in the United States is expected to grow by 6%, which equates to about 203,200 additional job openings each year.
These employment projections also anticipate growth in several types of nursing positions. Clinical settings that have expected job growth include:
Hospitals
Outpatient care centers
Offices providing same-day services such as surgery, chemotherapy, and rehabilitation
Home care and residential facilities
The career options are diverse and versatile for the RN profession, with both clinical and non-clinical positions available. Next, let's explore the cost of living in the state of Idaho.
Idaho Cost of Living
There is flexibility with the job of an RN that, combined with a reasonable Idaho cost of living, may make nursing an excellent choice from a financial perspective. Categories where Idaho has a lower cost of living than the national average include:
Groceries
Utilities
Transportation
Miscellaneous expenses such as clothing, restaurants, and entertainment
Becoming a nurse in Idaho is a worthwhile goal for those interested in hands-on health care, interaction with patients and a positive job outlook. Rockhurst University can help you achieve this goal with accelerated BSN and 100% online coursework. You will also have the opportunity to engage in one on-campus residency experience to network with faculty and classmates as you develop your clinical competency. Read on to learn more about this exciting option.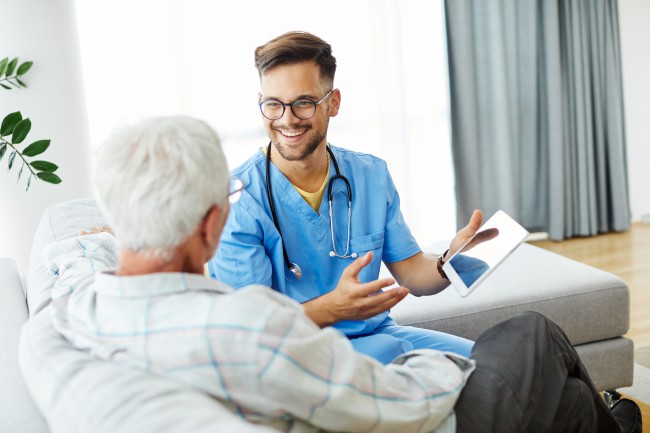 Become a Nurse with an Accelerated BSN from Rockhurst University
Rockhurst University's Online ABSN program is an excellent choice for prospective nursing students in Idaho looking to leverage their prior bachelor's degree and efficiently complete a nursing degree. The curriculum was created for students with an existing bachelor's degree in any field and serves as a point of mentorship to train quality clinicians through didactic coursework and hands-on clinical experiences. In 2023, Rockhurst BSN graduates achieved a 97% NCLEX pass rate.
Program features include:
A full-time commitment to complete your degree in just 16 months
Required clinical hours in your local area
Free clinical placement and preceptor matching services provided
100% online coursework
One on-campus residency experience in a state-of-the-art simulation lab
Accredited by the Commission on Collegiate Nursing Education (CCNE)
One-on-one NCLEX success coaching for graduates
You can learn more about admissions requirements and eligibility for online programs offered by Rockhurst University. Start your journey to become a nurse in Idaho with Rockhurst's hybrid ABSN program.