Almost 98 million people in the U.S. live in areas where the number of primary care practitioners is insufficient to meet the population's needs. The Health Resources and Services Administration expects that by 2030 the number of geriatric specialty physicians will drop by 8% while the need for these clinicians will soar by 50%. The Association of American Medical Colleges (AAMC) projects that by 2034, there will be shortages of between 17,800 and 48,000 primary care physicians, and between 21,000 and 77,100 non-primary care physicians.
While these shortages pose real dilemmas, they also present opportunities for those aspiring to be family nurse practitioners (FNPs) or adult-gerontology acute care nurse practitioners (AGACNPs). Both FNPs and AGACNPs provide acute care to populations with increasing rates of chronic conditions as well as those who face greater challenges accessing primary care.
Nurses interested in advancing their careers and who are considering FNP vs. AGACNP specializations may benefit from learning more about the differences between these two advanced practice nursing roles.  
FNP vs. AGACNP: What Are They?
Family nurse practitioners and adult-gerontology acute care nurse practitioners play crucial roles in providing care to diverse patient populations. Though FNPs and AGACNPs have some overlapping responsibilities, the areas of care they focus on, the patient populations they see and the types of conditions they treat differ.
FNPs focus on providing comprehensive, sub-acute, and long-term care to patients of all ages and building lasting relationships with their patients. On the other hand, AGACNPs concentrate on delivering specialized acute and critical care to only the adult and geriatric subset of patients in high-intensity settings, often for only a set period of time.
What Is an FNP?
Family nurse practitioners specialize in delivering primary health care across the life span. They work collaboratively with other health care providers and assume a central role in the management of their patients' health.
As their title suggests, FNPs focus on the family as a unit and typically treat the following populations:
Pediatric Population
FNPs provide primary care to infants, children and adolescents, addressing their unique health care needs, including:
Growth and development monitoring
Immunizations
Acute illnesses
Common childhood infections
Behavioral assessments
Health education for parents and caregivers
Adult Population
FNPs provide primary care services to adults of all ages, managing health concerns that include: 
Acute illnesses
Preventive health care needs
Healthy lifestyle choices
Chronic diseases, such as diabetes, hypertension, asthma and thyroid disorders
Health screenings
Health risk assessments
Geriatric Population
FNPs address the particular challenges faced by older adult patients, including:
Age-related health issues
Chronic conditions
Management of multiple medication regimens
Aging syndromes, such as falls and cognitive impairment
End-of-life care planning
Coordination of care with other health care providers
Women's Health
FNPs deliver comprehensive care to women across the life span. This includes:
Reproductive health issues
Family planning
Preconception counseling
Prenatal care
Postpartum care
Menopausal care
Screenings such as pap smears, breast exams and mammograms
Men's Health
FNPs address men's health concerns, including:
Preventive health screenings
Chronic disease management, such as cardiovascular health and prostate health
Sexual health
Lifestyle counseling
While FNPs provide care across the life span, they may choose to specialize in a specific population or practice setting based on their personal interests and professional goals.
What Is an AGACNP?
Adult-gerontology acute care nurse practitioners focus on providing comprehensive acute and critical care to adult patients. This involves treating patients dealing with severe injuries, life-threatening illnesses and recovery from complex surgeries.
AGACNPs are trained to handle rapidly changing conditions and care for individuals who typically require immediate attention, intensive monitoring and timely interventions. The patient populations AGACNPs treat include:
Adult Patients
AGACNPs deliver specialized medical attention to adults for a wide range of acute health conditions such as:
Respiratory distress, such as chronic obstructive pulmonary disease, pneumonia and pulmonary embolism
Cardiac emergencies, such as heart attack, arrhythmias and acute coronary syndromes
Trauma and injury, such as falls, fractures, head injuries and spinal cord injuries
Sepsis and systemic infections
Post-operative care
Neurological emergencies, such as stroke, intracranial hemorrhage and seizures
Gastrointestinal emergencies, such as gastrointestinal bleeding, pancreatitis and bowel obstructions
Renal and urinary tract conditions, such as urinary tract infections and renal colic
Hematological and oncological emergencies, such as transfusion reactions and complications related to cancer treatment
Geriatric Patients
AGACNPs play a crucial role in managing the complex health care needs of older adults, especially those vulnerable to acute illnesses and age-related complications including:
Frailty and functional decline
Cognitive impairment and dementia
Geriatric syndromes, such as urinary incontinence, pressure ulcers and sleep disturbances
Multiple chronic conditions, such as hypertension, diabetes, heart disease and arthritis
Nutrition and hydration issues, such as changes in metabolism, appetite and gastrointestinal function
Mental health issues, such as depression, anxiety and adjustment disorders
FNP vs. AGACNP: Core Responsibilities
The scope of practice for nurse practitioners (NPs) can vary depending on the laws and regulations that define their authority in the state where they practice. NPs' practice authority falls within one of three main environments: full practice, reduced practice and restricted practice. These environments determine their level of autonomy and the extent of the responsibilities they are allowed to assume.
In states where they have full practice authority, such as Kansas, NPs can evaluate, diagnose, order and interpret diagnostic tests; initiate and manage treatments; and prescribe medications independently without physician oversight.
In states where they have reduced and restricted practice authority, NPs have some limitations on their ability to practice independently and must have physician supervision for some of their clinical activities.
Understanding these practice environments helps provide context to the core responsibilities of FNPs and AGACNPs.
What Does an FNP Do?
In states with full practice authority, FNPs practice as autonomous primary care providers. They have the following core responsibilities:
Performing physical exams: FNPs conduct thorough assessments of their patients' health — including taking medical histories, performing physical examinations and ordering diagnostic tests.
Collaborating with other health care professionals: FNPs engage in interdisciplinary teamwork — consulting and collaborating with physicians, nurses, pharmacists and other health care providers to ensure their patients receive the comprehensive care they need.
Developing care plans: With consideration of their patients' needs, medical histories and preferences, FNPs create plans that include preventive health care measures, chronic disease management and health promotion strategies.
Assessing health conditions and performing diagnostic tests: FNPs order and interpret diagnostic tests, such as bloodwork, imaging studies or electrocardiograms, to assist in diagnosing and monitoring their patients' health.
Prescribing medications and treatments: FNPs prescribe medications and treatments for their patients, ensuring the safety and efficacy of the medication and educating patients about the medications they've been prescribed.
Performing minor medical procedures: FNPs assist with or independently perform minor procedures such as suturing wounds, removing sutures or performing simple skin biopsies.
According to a September 2022 Kaiser Family Foundation report, 97.6 million people in the U.S. live in areas with a significant shortage of primary care providers. The report estimates that more than 16,940 primary care practitioners are needed to rectify the problem. FNPs can help mitigate this shortage by providing essential health care services to underserved populations.

What are the primary responsibilities of family nurse practitioners? FNPs have distinct roles with a number of responsibilities that include performing physical exams, making referrals, consulting with other medical professionals, assessing health conditions and performing diagnostic tests, assisting with or performing medical procedures such as suturing, prescribing medications and other treatments and developing care plans.
What Does an AGACNP Do?
AGACNPs with full practice authority have the following core responsibilities:
Monitoring and managing acute conditions: AGACNPs closely observe patients with acute health conditions, such as those experiencing cardiac emergencies, trauma and injuries and sepsis.
Implementing preventive health care plans: AGACNPs devise preventive health care strategies for their patients to promote wellness and reduce the risk of complications in their patients.
Developing comprehensive care plans: AGACNPs tailor treatment plans for their patients that address their acute care needs, the ongoing management of their chronic conditions and the coordination of care across different health care settings.
Providing rehabilitation services: AGACNPs design and implement rehabilitation plans for their patients that support their recovery from complex surgeries, injuries or acute illnesses in collaboration with physical therapists or occupational therapists.
The American Geriatrics Society projects a shortage of 4,740 geriatrics care providers by 2030, highlighting the need for skilled AGACNPs to manage the complex health care needs of older adults across the U.S.
By understanding the distinct responsibilities of FNPs and AGACNPs, nurses can make informed decisions about their specialization and contribute to addressing the ongoing geriatrics care provider and primary care provider shortages.

What are the primary responsibilities of Adult-Gerontology Acute Care Nurse Practitioners? AGACNPs focus on caring for adults with chronic or acute illnesses and injuries. Their typical duties include monitoring chronic conditions, implementing preventive as well as acute health care plans, developing comprehensive care plans for adult and gerontology patients and providing rehabilitation services.
Comparing FNP and AGACNP Work Environments
By understanding the different work environments of FNPs and AGACNPs, nurses can make informed decisions about their career paths and choose the setting that aligns with their interests, skills and professional goals.
A nurse practitioner's work setting is based on the population of patients they serve and the nature of the care they provide.
Where Can a Family Nurse Practitioner Work?
FNPs have the flexibility to work in any of a number of settings. Common work environments for FNPs include:
Clinics: Community clinics serve as accessible points of care for individuals seeking routine checkups, preventive care and management of chronic conditions.
Community centers: In these settings, FNPs play an essential role in caring for underserved populations and tackling health care disparities.
Physicians' offices: FNPs often collaborate with physicians in their private practices, contributing to the delivery of primary care services to patients of all ages.
Hospitals: FNPs can work in hospital emergency department fast-track or subacute care locations, where they treat patients with minor health concerns-matching the population for which they are trained.
Outpatient clinics: Depending on the clinic's focus, FNPs address women's health issues, provide primary care to pediatric patients or handle chronic disease management.
Telemedicine: With the advancement of technology, FNPs can use telemedicine platforms to deliver virtual care — offering consultations and health education, remotely assessing and diagnosing patients and providing follow-up care.
Where Can an Adult-Gerontology Acute Care Nurse Practitioner Work?
AGACNPs practice in acute care settings that cater to individuals with immediate health care needs or who require short-term treatment for acute health conditions.
These environments provide comprehensive and timely care for patients facing sudden illness, injury, or an exacerbation of chronic conditions. They include:
Emergency rooms: AGACNPs assess and manage patients with acute or urgent medical needs in close collaboration with medical teams in emergency departments.
Intensive care units (ICUs): AGACNPs work closely with critical care teams in units treating patients with severe or life-threatening conditions.
Long-term care facilities: In nursing homes, rehabilitation centers and memory care units, AGACNPs help care for older adults with complex health needs.
Hospice care facilities: In these settings, AGACNPs provide compassionate care that supports patients and their families through the end-of-life journey.
Specialized ICU units: AGACNPs treat patients in adult ICU units tailored to specific medical conditions such as cardiology, neurology or oncology.
Post-operative care: AGACNPs help ensure that patients receive effective care after surgeries or procedures and reduce the likelihood of complications.
Salary and Career Outlook
The job outlook for nurse practitioners, including FNPs and AGACNPs, is exceptionally strong. The U.S. Bureau of Labor Statistics (BLS) expects the number of jobs for nurse practitioners to grow by a remarkable 46% between 2021 and 2031.
The BLS also reports that nurse practitioners had a median annual salary of $120,680 in May 2021. Specific salary information for FNPs and AGACNPs follows.
FNP Salary
According to Payscale data as of June 2023, FNPs had a median annual salary of around $101,600. FNPs' salaries range from about $83,000 to $124,000 a year. Factors that affect an individual NP's salary can include their years of experience, location and practice setting.
AGACNP Salary
According to Payscale data as of June 2023, the median annual salary for AGACNPs was about $96,100. Salaries for AGACNPs range from about $88,000 to $113,000 per year. As with FNP salaries, experience, location and practice setting can account for these pay differences.
FNP and AGACNP Certifications, Education and Licensure
The pathway to becoming an FNP or AGACNP involves navigating a range of certification, education and licensure requirements specific to each specialization.
Aspiring nurse practitioners can gain valuable insights by considering the distinct pathways and requirements for both FNPs and AGACNPs.
How to Become an FNP or AGACNP
The following steps can serve as a helpful roadmap for nurses planning their careers.
Step One: Become an RN
To become a registered nurse (RN), individuals need to complete a Bachelor of Science in Nursing (BSN) program or an Associate Degree in Nursing (ADN) program. Several options for pursuing advanced education are available for nurses with an ADN and for other individuals who want to become registered nurses with a bachelor's degree. After completing a nursing program, individuals must pass the National Council Licensure Examination for Registered Nurses (NCLEX-RN). Next, they need to apply for an RN license in the state where they intend to practice.
Step Two: Earn an MSN with an FNP or AGACNP Track
Once licensed as an RN, nurses can pursue a Master of Science in Nursing (MSN) degree with an FNP or AGACNP track. The number of credits and clinical hours required for these degrees can vary depending on the program and institution.
MSN programs with a family nurse practitioner specialization typically require around 40 to 60 credit hours, with clinical hour requirements ranging from 500 to 750 hours or more.
MSN programs with an adult-gerontology acute care nurse practitioner specialization also require around 40 to 60 credit hours. However, clinical hour requirements for AGACNP programs have a slightly broader range, typically between 500 and 1,000 hours or more.
Some MSN programs offer online or hybrid options for coursework, allowing students to have more flexibility in their studies. Additionally, dual track programs at select universities can prepare nurses to deliver both primary and acute care.
By enrolling in a dual degree track, students can earn both an FNP and AGACNP specialization through a single MSN program. For example, the individual MSN program could require 49 credits, while the FNP and AGACNP dual track program could require only 62 credits.
Step Three: Pass the National Board Certification Exam for FNPs or AGACNPs
After completing an FNP, AGACNP, or dual track MSN program, graduates need to pass the appropriate exam to demonstrate proficiency in their area of specialization.
To gain FNP certification, nurses can take one of two tests. The first is the family nurse practitioner certification (FNP-BC)™) exam administered by the American Nurses Credentialing Center (ANCC). The other option is to take the FNP certification exam administered by the American Academy of Nurse Practitioners Certification Board.
To gain AGACNP certification, nurses also take one of two tests. The first is the adult-gerontology acute care nurse practitioner certification (AGACNP-BC) exam, also administered by the ANCC. The other option is to take the ACNPC-AG exam administered by the American Association of Critical-Care Nurses.
Step Four: Get FNP or AGACNP Licensure in the State of Intended Practice
After passing the necessary exams, nurses can apply for state licensure to practice as an FNP or AGACNP. States each have their own specific guidelines, so individuals need to review the licensure requirements of the state where they intend to practice.
Step Five: Keep Your Certification Valid
To keep an FNP or AGACNP certification valid, nurse practitioners will need to renew them every five years. This involves completing a certain number of continuing education units and maintaining clinical practice hours.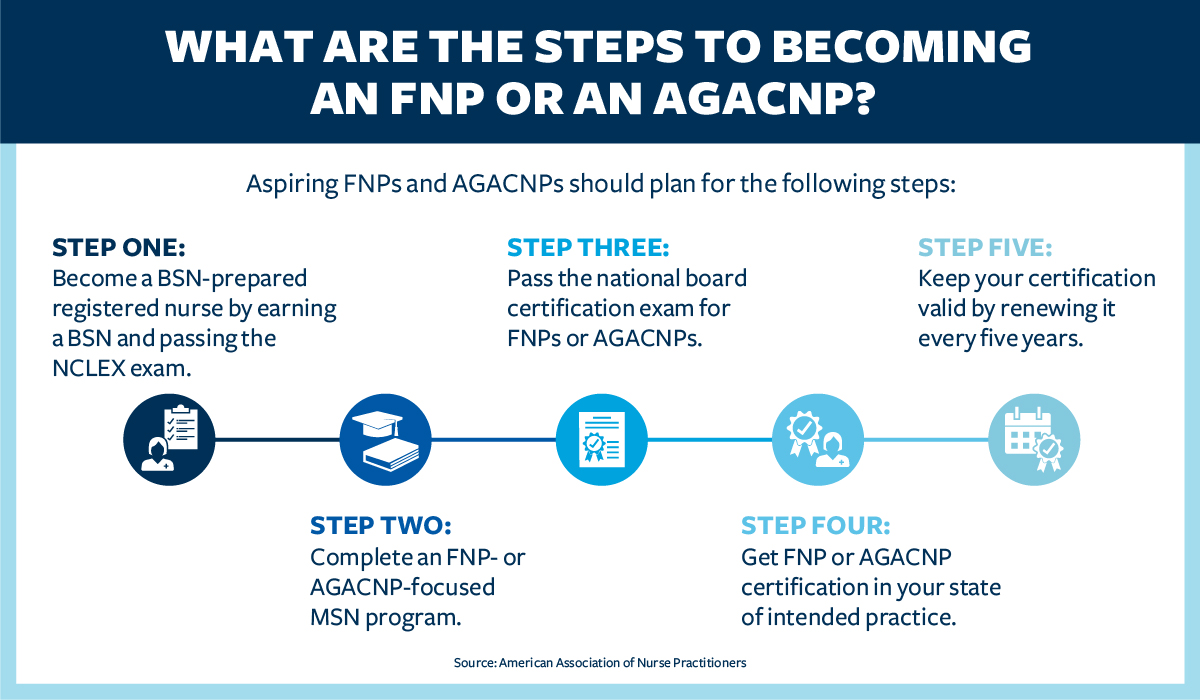 What are the steps to becoming an FNP or an AGACNP? Aspiring FNPs and AGACNPs should plan for the following steps:
Step One: Become a BSN-prepared registered nurse by earning a BSN and passing the NCLEX exam.
Step Two: Complete an FNP- or AGACNP-focused MSN program.
Step Three: Pass the national board certification exam for FNPs or AGACNPs.
Step Four: Get FNP or AGACNP certification in your state of intended practice.
Step Five: Keep your certification valid by renewing it every five years.
How Long Does It Take to Become an FNP or an AGACNP?
The timelines for becoming an FNP or AGACNP can vary. Factors such as an individual's enrollment status (full-time or part-time) and the starting point of their education can affect how long it takes them to complete the necessary requirements. Some students may choose to pursue their MSN immediately after earning their BSN, while others may opt to gain professional experience before pursuing advanced education.
Generally, MSN programs can take about two to three years to finish. Part-time enrollment may extend that timeline. For example, an MSN AGACNP program will likely take six semesters to complete full-time and eight semesters part-time.
Necessary Skills for FNPs and AGACNPs
Successful FNPs and AGACNPs possess key nursing skills that empower them to provide quality care to their patients. While both areas of specialization require some of the same skills, each role calls for certain distinct competencies as well.
Shared Skills Between FNPs and AGACNPs
Regardless of specialization area, nurse practitioners need to excel in the following areas:
Patient Education
FNPs and AGACNPs play a vital role in educating their patients. They have the responsibility to effectively communicate medical information, diagnoses, treatment options and preventive measures. Comprehensive patient education enables individuals to actively participate in their health care, make informed decisions and engage in self-care practices.
Critical Thinking
Critical thinking is an indispensable skill for any FNP or AGACNP. The work of both types of clinicians demands complex analysis when assessing patient conditions, recommending treatment options and making well-informed clinical judgments. FNPs and AGACNPs need to interpret medical data, identify potential complications and develop appropriate interventions to ensure the best patient results.
Formulation of Treatment Plans
FNPs and AGACNPs work with patients and collaborate with other health care professionals to design individualized plans of care. They consider various factors such as a patient's medical history, current symptoms, diagnostic test results and preferences. The ability to formulate effective treatment plans allows FNPs and AGACNPs to address their patients' immediate health care needs and provide comprehensive and coordinated care.
FNP Skills
Tasks especially important for FNPs to be able to perform include:
Pediatric Care and Developmental Assessment
To provide optimal care to their pediatric patients, FNPs need expert knowledge of the unique physiological, psychological and developmental aspects of children from infancy through adolescence. FNPs must be adept at performing thorough pediatric assessments. This requires understanding pediatric growth and development milestones, immunization schedules, common childhood illnesses and age-appropriate screenings.
Family-Centered Care and Family Dynamics
FNPs need to navigate family dynamics to deliver effective family-centered care. By recognizing and understanding how family dynamics can influence the health and well-being of their patients, FNPs can better assess and address a patient's health, as well as incorporate a family's values and preferences into their care plans. 
AGACNP Skills
Key skills for AGACNPs involve expertise in areas that include:
Acute Care Management
Addressing cases of pneumonia, rheumatoid arthritis flare-ups, postoperative care and other critical care situations require AGACNPs to have proficiency in acute care management. This requires the ability to competently assess and manage acute symptoms, interpret diagnostic tests and prescribe appropriate medications within time constraints.
Advanced Diagnostic and Interventional Procedures
AGACNPs often perform or assist with various advanced diagnostic and interventional procedures specific to acute care settings. These procedures may include inserting arterial lines or urinary catheters, performing lumbar punctures, assisting with intubations and managing ventilator settings.
AGACNPs need in-depth knowledge of procedural techniques and how to correctly use the technology and equipment required to perform these procedures. Additionally, AGACNPs need specific knowledge to properly monitor patients during and after procedures and recognize potential complications.
FNP or AGACNP: Which One Is Best for You?
For those inspired to advance their nursing careers, MSN career opportunities abound. Examining the different nursing specialties, such as the FNP and AGACNP specializations, can help nurses decide which best suits their individual interests and work preferences.
When comparing a potential career as an FNP or an AGACNP, below are some key differences to keep in mind:
Population focus: FNPs focus on providing health care to patients across the life span, including infants, children, adults and older adults. AGACNPs focus on the adult and geriatric populations.
Types of patient care and treatment: FNPs deliver primary care services, emphasizing health promotion, disease prevention and managing chronic conditions. AGACNPs handle acute illnesses and conditions.
Working hours and environments: FNPs typically work in outpatient settings, including private practices, community clinics, or health care centers and tend to have more predictable working hours. AGACNPs frequently work in acute care settings — such as hospital ICUs or emergency departments — with longer shifts and schedules that may include evenings, nights and weekends.
Take the Next Step Toward Advancing Your Nursing Career
FNPs and AGACNPs play valuable and different roles in providing advanced clinical care to their patients. Today, given the shortage of geriatricians and primary care doctors, the need for advanced practice nurses in both specialties is greater than ever.
Nurses ready to advance their careers would do well to explore the exciting opportunities offered by FNP and AGACNP roles.
Infographic Sources:
American Association of Nurse Practitioners, "Are You Considering a Career as an Adult-Gerontology Acute Care Nurse Practitioner?'
American Association of Nurse Practitioners, "Are You Considering a Career as a Family Nurse Practitioner?"
American Association of Nurse Practitioners, "The Path to Becoming a Nurse Practitioner (NP)"