Nurses have always done incredible work to support and care for their patients. Since the arrival of the COVID-19 pandemic, though, nurses' work has become downright heroic. But even heroes can reach their limits. As the pandemic has worn on, hospitals and other care environments are contending with compassion fatigue, or nurse burnout.
Nursing burnout is not a new phenomenon. An analysis of prior studies on ways to decrease burnout ("Prevention Actions of Burnout Syndrome in Nurses: An Integrating Literature Review." de Oliveira SM, de Alcantara Sousa LV, Vieira Gadelha MDS, do Nascimento VB) says that the term "burnout" was first coined in the 1970s to describe the emotional and physical fatigue that came from work-related stress, particularly among health professionals. This prolonged stress can lead to low motivation or a sense of failure. 
The authors of the analysis went on to describe what underlies the dilemma that nurses face: 
"In the health area, nursing stands out as one of the most exhausting professions owing to different circumstances in professional practice causing physical and emotional exhaustion. The nurse is expected to perform patient care with patience and empathy, all in a highly stressful environment, with few resources and an excessive workload, thereby requiring nurses to find a balance between these factors that interfere in their working life."
These feelings not only affect the nurse's outlook on their job but may also lessen their ability to provide adequate patient care. As reported in an article citing a report from the Agency for Healthcare Research and Quality, "Clinicians with burnout may also have impaired attention, memory, and executive function that decrease their recall and attention to detail. Diminished vigilance, cognitive function, and increased safety lapses place clinicians and patients at higher risk for errors."
Nurse burnout can also be a major contributing factor to nurses leaving their jobs or the profession.

Stressors that can cause nurse burnout
Stressors tend to be forces you feel you have little control over but are expected to contend with anyway. For nurses, these can take the form of organizational pressures, such as:
Insufficient staffing
Increased workloads
Unclear role expectations
Reduced management support
Increased paperwork
Other stressors are related to patient interactions, including:
Greater patient acuity
Patient pain and suffering
Desire to protect patients' rights 
Patient-initiated verbal abuse or violence
Identifying nurse burnout
If you want to know how to prevent nurse burnout, you must first identify its symptoms. Nurses with burnout share some similar feelings, which fall into three major categories—emotional exhaustion, depersonalization and dissatisfaction with personal achievements. These can manifest themselves in the following ways:
Fatigue
Problems sleeping
Anxiety
Headaches
Lack of interest in going to work
Feeling underappreciated or unappreciated 
Feeling constantly overworked
Feeling ineffective or unimportant
Impersonal responses to people under your care
Dissatisfied with things that used to bring joy—at work and at home
Isolating oneself or withdrawing from activities
Poor decision-making
Substance abuse
It's important to acknowledge that everyone at some time or another feels out of sorts, a little sad or that they would love a good, long vacation—starting immediately. But when feelings like those listed above linger for weeks, it's not a good sign. It's time to take back some measure of control.
Learn more about RUO's Online Nursing Programs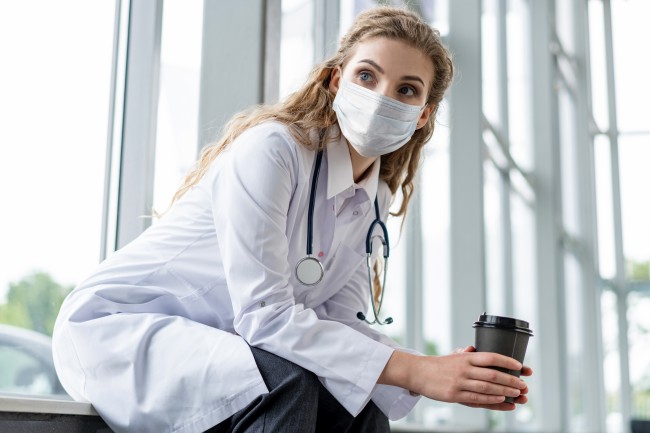 Ways to reduce stress and avoid burnout
Sometimes you can address a big problem by breaking it down into smaller, more manageable tasks. This strategy can be applied to some of the symptoms of burnout. You might be able to limit or eliminate some stressors by communicating with the right people at work. After all, hospitals and nursing homes don't want to lose valuable employees. Some of the country's most well-regarded health institutions have recommended instituting programs to address burnout among nurses and other providers.  
Even though some workplace issues will remain out of your control, you might be able to alter your response to the stressor, so it doesn't take such a big toll on you. As it was stated in the de Oliveira study review, "the authors concluded that teaching the participants on the management of stressors in their work environment would allow them a change in the perception of these stressors, thereby reducing the tensions and complaints related to occupational diseases."
1. Examine and manage your stressors
First, identify your stress responses—do you hunch your shoulders, get an increased heart rate or become irritable? Then make a list of the things at work that are contributing most to your stress. Some you may be able to control and some you won't. If there is a problem with your workload, for example, you might be able to get some relief if you speak to a manager about adding a nursing assistant to take on appropriate tasks. 
Even if you can't control or eliminate the stressor, you may be able to modify your response to it. In the course of a busy workday, try to find moments to take a few deep breaths, which invokes the body's relaxation response. When you are away from work, engage in an activity that you find restful, such as a nature walk, yoga or or a creative hobby, to let go of some of your stress. 
2. Develop and maintain strong relationships
Having a strong social network can help you feel less isolated and forms a sort of emotional backstop. When you can share feelings about work frustrations with colleagues with whom you have a safe, supportive relationship or with friends in your social network, that can help you get some perspective on things. 
Friends who are in the healthcare industry might be able to identify with your concerns and give you helpful advice. Friends who aren't in health care might be able to share how they have dealt with comparable situations in their industries.
Try to schedule time with friends away from work. If your night-shift schedule puts you out of sync with friends and family, stay in touch via email or social media, until you are able to schedule that time for connection. 
3. Address your physical health
Keeping up your physical health is important for your well-being and as a way to reduce stress. Physical exercise has been shown to release endorphins that boost mood. It also contributes to good sleep hygiene. Even with erratic schedules, nurses should try to get eight hours of sleep per day to help calm anxiety and improve attention and memory. 
A healthy diet is also a top priority. It can be hard to eat a relaxing meal in the middle of a shift, but a little planning can go a long way to making sure you get balanced meals over the course of the day. 
4. Find healthy ways to boost your mental health
There are several ways that you can address your mental health. Things that you can do on your own include small acts of self-care, such as:
Taking several deep breaths to slow your heart rate and get more oxygen circulating in your system. 
Practicing meditation—even for a few minutes—can help restore some inner peace. 
Taking a mental health day (if your employer allows it) when you need a day to regroup.
If you feel that your problems are persistent, you should seek out a therapist who can help you. If your employer has an employee assistance program (EAP), there might be burnout prevention programs in place that you can take advantage of.
5. Become a nurse leader to advocate for change
To support nurses in their roles, nurse leaders can promote workplace adjustments that: 
Enhance nurse autonomy
Ensure adequate staffing
Create a culture of safety 
Promote professional development
Nurse leaders can support nurses on a larger scale by surveying their staff to assess stress levels and use the collected information to implement intervention programs to promote resilience. Programs such as stress management or time-management courses can help nurses deal with their perception of a chaotic workplace and enable them to make progress and improvements in their work day and environment.
These sorts of support allow nurses to operate with a greater sense of control and a belief that their professional judgments will be heard  and respected.

Expand your choices through advanced nursing degrees at Rockhurst University 
One way to advocate for yourself is to recommit to your profession and to invest in your personal growth and development as a nurse. Many nurses are finding greater autonomy, job satisfaction and work-life balance by becoming nurse practitioners. You can earn a Master of Science in Nursing degree online that can position you to take on a nurse practitioner role, which offers you significant career choices such as Family Nurse Practitioner or Adult-Gerontology Acute Care Nurse Practitioner
Rockhurst's online Master of Science in Nursing and Post-Graduate Certification programs are accredited by the Commission on Collegiate Nursing Education and the Higher Learning Commission.
Contact us to learn how you can take that step to elevate your nursing career as a nurse practitioner.